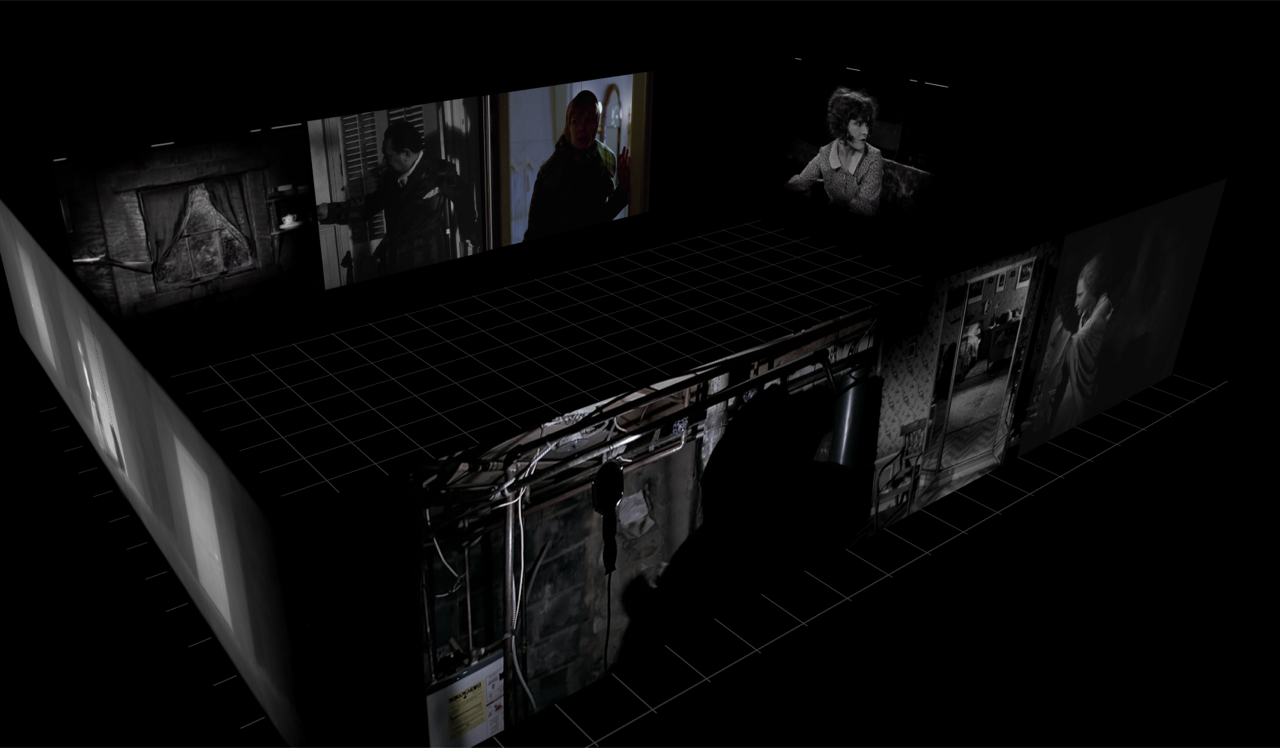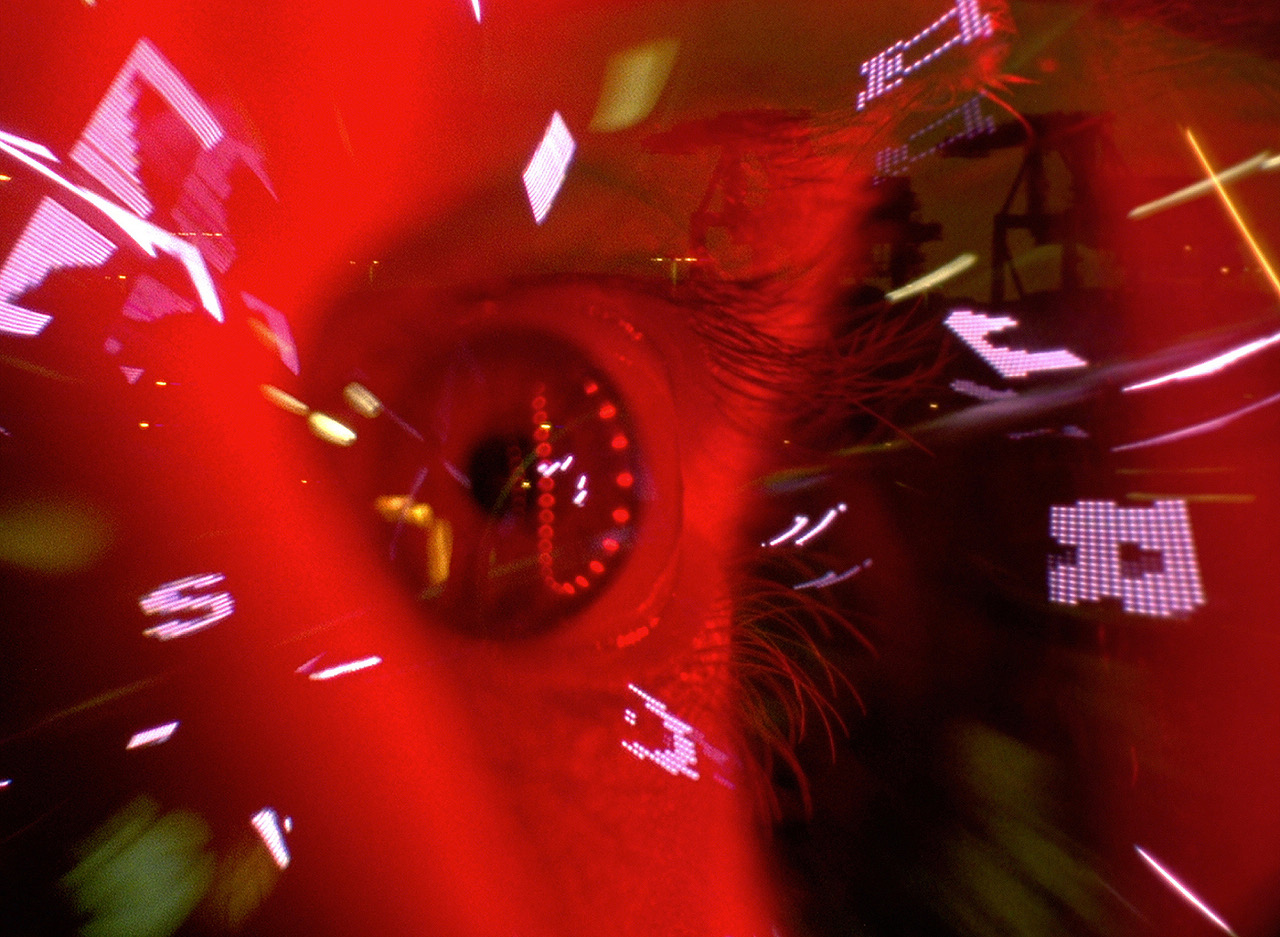 CineChamber Programs Summary
(Wednesday, October 11th through Saturday, October 14th; detailed schedule below)
Recombinant Recap 2016
60 Minutes total running time.
Recombinant Recap 2016 surveys some of the most alluring CineChamber works originally presented on the platform, revisiting live archived concerts and constructs from a decade ago at the Recombinant Media Labs theater in San Francisco.
Wednesday, October 11th & Thursday, October 12th @ 6:30pm – 7:30pm (Tickets)
The Fall of Love
86 Minutes total running time.
Wednesday, October 11th & Thursday, October 12th @ 8:00pm – 9:30pm (Tickets)
Friday, October 13th & Saturday, October 14th @ 6:30pm – 8:00pm (Tickets)
Paradise Tossed
78 to 90 Minutes total running time.
Wednesday, October 11th & Thursday, October 12th @ 10:00pm – 11:30pm (Tickets)
Friday, October 13th & Saturday, October 14th @ 8:30pm – 10:00pm (Tickets)
Recombinant Recap 2016
60 Minutes total running time.
1. Xynaxis by Naut Humon: Audio Mapping Remixing.
One of Xenakis's first "polytope" multimedia pieces "Persepolis" was chosen for re-interpretation with customized remixes that the composer was aware was about to be released by Asphodel Records in 2001 when he passed away. The interlacing of the remix pieces by various composers draws largely from the original work, emphasizing its noisy sonorities and overlapping waves of intensity. Naut Humon who curated the customized re-workings applied those remix sources with other outside electronics from Frankenstein Symphony etc. for this dedication tribute remix to the future memory of Iannis Xenakis.
2. Orbit Study (preview) by Ryoichi Kurokawa: Visuals and Sound.
Kurokawa's work ORBIT premiered at Mutek 2012. This work explores a strange new alternate earthworld as it rotates, contracts and spans various panoramic vicinities.
3/4. Elsewhere, Anywhere / People Are Friends & Birds Fly by Egbert Mittelstadt: Visuals, and Biosphere: Sound.
The mercurial widescreen sonic cinematic syntax of Biosphere & Egbert Mittelstadt has graced the CineChamber screens for many seasons now after their live milestone residencies in 2007. Opening with the weightless dreamful drift of "Elsewhere Anywhere", Egbert Mittelstaedt reveals a Tokyo subway interior where the passengers are captured in a catatonic still life as their frozen images float quietly around a discerning CineChamber Station. Trapped on a haunted metro train to nowhere are the animated apparitions that emerge out of these photographic figures which for brief moments re-imagine the former preoccupation and lost voices of these restless commuter "ghosts". The spectral twilight audio commentary from Biosphere's Geir Jenssen suggest that these "People are Friends" - activated spirit's of a human presence long since suspended.
5. cm: av_c by Ryoichi Kurokawa, Surround Cinema version.
Adapted from Kurokawa's longer cm:av_c concert program from the mid 2000's - the RML "CrossMedia" archive expansion module consolidates & repurposes some essential excerpts from this full hour production in full 10 channel surround. It is like seeing it all over again for the very first time. A timeless and powerful passage through thirteen minutes of Ryoichi's initial leap to prominence.
6. Saffron Revolution Forever by Lillevan: Visuals, and Christian Fennesz: Sound, Co-produced by RML & ECAS.
'Saffron Revolution', which is a suitably grand thematic gesture, stretching out a single, euphoric multi-layered chord across much of its duration before dissipating away into a pattern of delayed string pickings. 'Saffron Revolution' is far and away one of the Cinechamber's most atmospheric and submergent modules, both in terms of the music and visuals themselves, and the sheer iridescence of the all-encompassing electronic liquidscape harnessed within.
7. Static Room by Scott Arford: Analog Television and Sound.
The RML Static Room module is segments from Scott's ongoing series of performance & exhibitions, which with the palpitating chromatic moiré patterns from TV static and flawed connections, omit all representational images and cease to portray a linearly composed narrative event. Clamorous tones and hallucinatory color fields break down into vibrating sheets of interlaced fluttering and tumultuous shredding crackling luminosities that make it possible to hear the buzzing images and see the flickering sounds.
8. Parallel Head by Ryoichi Kurokawa: Visuals and Sound.
A seminal Kurokawa project from the later 2000's gets the full panoramic treatment with the rapid fire "Parallel Head" - a real head turner in the 360-degree version. Here Ryoichi upshifts his dynamic blip fast data pings to tidal waves of transitory, contradictory elastic tempo's which are re-assembled in a sudden and surprising dramaturgy of a distinctly indivisible concordance with electrochemical sub-narrative temporalities.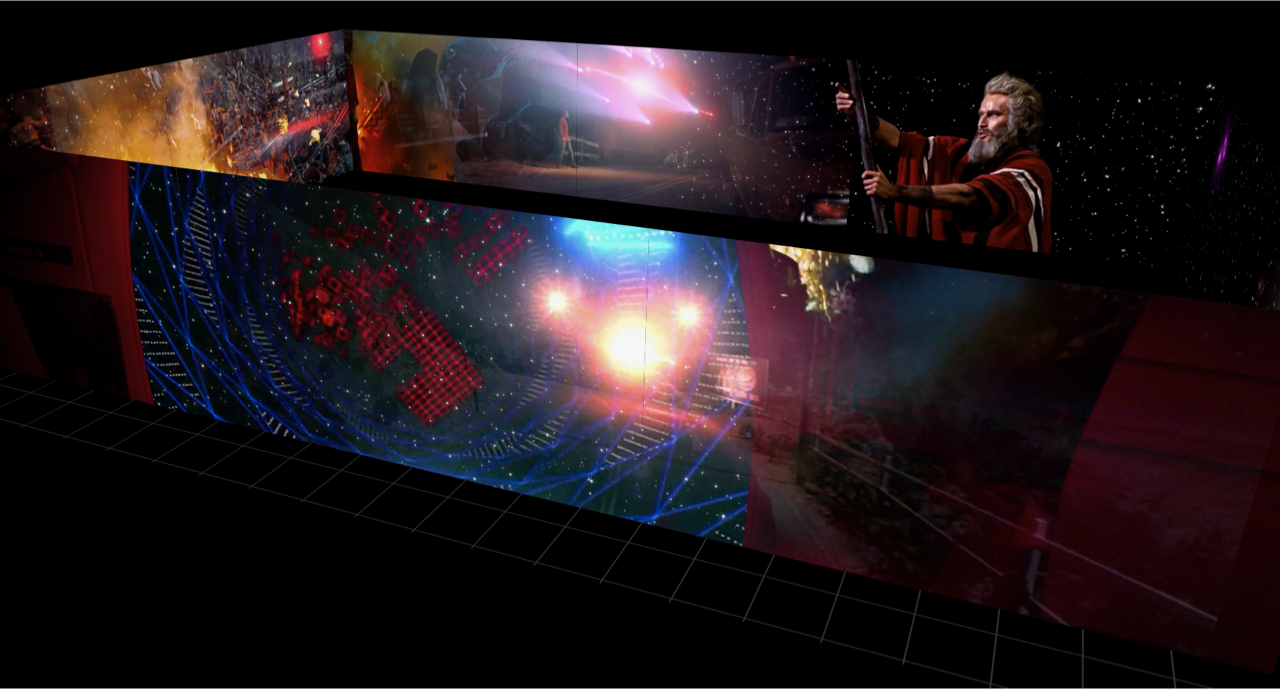 The Fall of Love
86 Minutes total running time.
(Wed, Thu) 1. Nth Dimension (2017) by Craig Baldwin (PROSCENIUM SCREEN, 30 min)
The feature attraction conjures up 3-D views with the help of ChromaDepth glasses, lab lasers, Kodak lenses and a free fall through holographic space! Then Baldwin "re-tracks" 'Milk of Amnesia' and 'Dimensions of Change' with audio oddities from the OTHER CINEMA archive based repertoire which visits the dark side of mid century TV commercials while "Hot Pickled Capers" hybridizes Italian B movies with Canadian 'Isotopes' for some sexy fission - I mean frission! This opening medley also boasts some bad ass Rotostroboscope action, and stereoscopic cat porn.
(Fri, Sat) 1. Invocation of My Demon Brother & Chromo Sud with San Francisco Cinematheque (PROSCENIUM SCREEN, 30 min)
As the sun sets on the Summer of Love™ 50th anniversary, the Fall of Love Program begins with Kenneth Anger's infernal and incantatory Invocation of My Demon Brother (1969), featuring an abrasive electronic score by none other than Mick Jagger. A dark classic cinematic conjuration of the mighty Lord Lucifer, filmed in infamous SF locations (including the Straight Theater and the mysterious countercultural stronghold known as the "Russian Embassy"), Invocation… drills to decadent thanaterotic core of the 1960s peace 'n' luv fantasy. The film features Anger as the Magus, Anton LaVey as His Satanic Majesty, Bobby Beausoleil as Lucifer and Mick Jagger as "himself." Invocation is followed by a very rare screening of forgotten Quebecois filmmaker Etienne O'Leary's virtually unknown masterpiece Chromo Sud, filmed in Paris, 1968. A careening and disintegratory diaristic work (also featuring an amazingly aggressive soundtrack), Chromo Sud rivals the darkest visionsworks of Kenneth Anger in its fusion of violence, eroticism and profane mysticism and a lives lurching out of control in late '60s Paris.
2. Gone, Gone Beyond! by People Like Us (CINECHAMBER WORLD PREMIERE, 35 min)
"Hey, hey, have you ever tried... reaching out to the other side?"
"Gone, Gone Beyond" is a 35-minute immersive a/v spatial cinema work by People Like Us, which breaks the rectangle, smashing the thin screen into tiny fragments, looking beyond the frame, climbing through to see what's behind.
3/4. Sensa (Music by Oval), Shell of Light (Music by Burial) by Masako Tanaka (CINECHAMBER WORLD PREMIERE, 5 min / 6 min)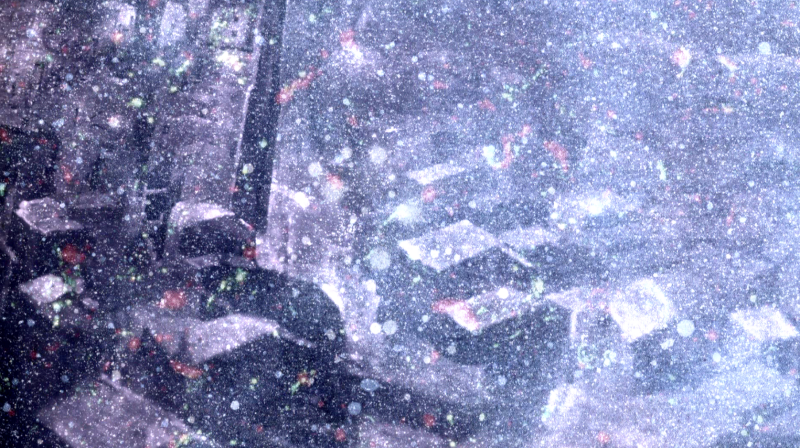 Paradise Tossed
78 - 90 Minutes total running time.
1. Death of Hippie by Allen Willis (PROSCENIUM SCREEN, 7 min)
2. Film Selections by Makino Takashi (PROSCENIUM SCREEN, 18 - 30 min)
One screened per showing of 2012, Cinema Concret (with revised score commissioned by Empty Gallery), Still In Cosmos, On Generation and Corruption
3. Memento Stella by Makino Takashi, produced in collaboration with Empty Gallery, (CINECHAMBER WORLD PREMIERE, 20 min)
4. Hypnosis Display — Music by Grouper; Visuals by Paul Clipson (CINECHAMBER WORLD PREMIERE, 7.5 min)
For Cinechamber, Liz Harris and Paul Clipson premiere a 360 experiential incarnation of HYPNOSIS DISPLAY, their acclaimed sound/film performance collaboration. This screening short is 7.5 minutes long that features a fresh studio soundtrack arrangement by Grouper.
Liz and Paul have been working together for over 5 years on various films and live performances, including the 75 minute 16mm work HYPNOSIS DISPLAY commissioned by Leeds Opera North, which has been presented in the US, CAN, EU, UK, and AUS.
5. Kuroshio — Music Philip Jeck; Visuals Karl Lemieux and Michaela Grill (CINECHAMBER WORLD PREMIERE, 15 min)
Kuroshio is the collaboration between musician Philip Jeck and filmmakers Karl Lemieux and Michaela Grill. Together they create atmospherically dense worlds for the perceiver to get lost in. Using analogue and digital means in producing their work, they build layered currents of images and sounds.
6. Diesara Claws — Music by Muslimgauze; Visuals by Masako Tanaka (CINECHAMBER WORLD PREMIERE, 10.5 min)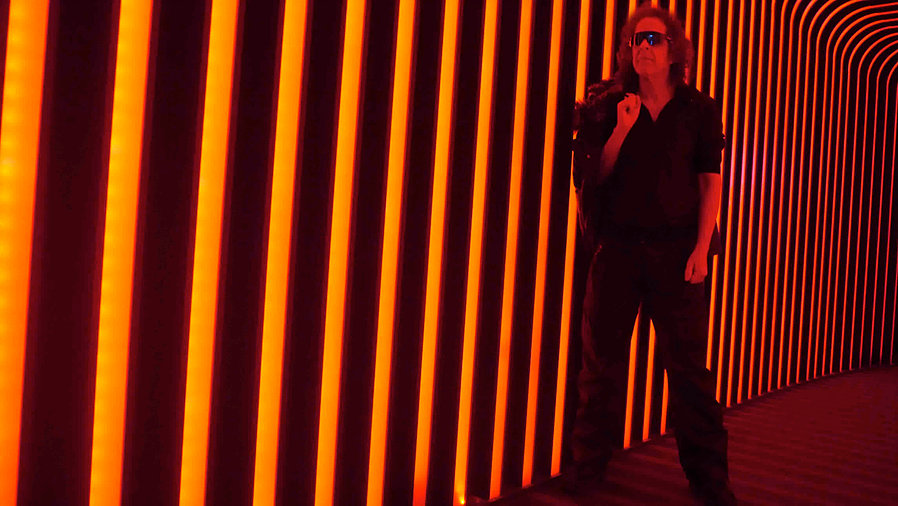 Live AV Performances
(Friday & Saturday)
Martin Rev plays Live (with visuals by Divine Enfant) — Friday, Oct 13th. Powerful live tracks from the last 35 years, plus this year's "Demolition 9" standouts. Pedestrian Deposit opens along with a special guest to be announced. We will also be joined by audio ingress artist Neha Spellfish.
Martin Rev plays Suicide (with visuals by Divine Enfant) — Saturday, October 14th. Rev re-customizes the content from the Suicide album archives thru the ages. Daniel Menche and special mystery guest TBA will be opening... and somewhere in the theater, Neha Spellfish will be frequency hexing the space.
Sunday Symposium, October 15th
Festival Theme Panel — FALL OF LOVE : PARADISE TOSSED with Erik Davis, V.Vale, Mark McCloud & Naut Humon
Uncanny Cultures, Context, and Contradictions - What's Love Got to Do With It?
Now that the 50th anniversary of the Summer to bummer of Love is winding down RML thought we would jumpstart into this 2017 season's transition with a bizarre pre-hallows-eve commemoration of the October '67 "Death of Hippie" mock funeral procession on Haight Street, where they constructed a custom coffin filled with the countercultural paraphernalia and wilted flowers, signifying the death of the media generated hippie - was this a Premature Burial? Or the FALL OF LOVE? - (its all up for grabs!)
As an outsized stretcher with a flower clutching "corpse" followed the ceremonial casket into a makeshift street fire it seemed like the first strains of the symbolic "Burning Men" saga began here long before a scrap wooden man was burned in '86 on SF's Baker Beach. By proclaiming their own demise, the Diggers hope to purify, cleanse and bear this "birth of free" from the commercialIzed construction that the plastic hippie stereotype had culminated. Then as the fundamental dash through Woodstock nation got rattled at Altamont the previously postulated imaginings of a kind of revolutionary PARADISE or utopia whose optimistic springboard was getting TOSSED, turned and churned through the following decades.
Another Phoenix rose thru the freak scene from the post 60's ashes which was an NYC underground "Punk Mass" designation by a minimalist electronic duo called SUICIDE who predated the later punk rock movement by almost six years. Like the Velvet Underground before them, Suicide seized upon the sonic tension of the diversifying musical times far in advance of their eventual subcultural recognition.
Musically and lyrically, punk rock was the intentional antithesis of the disco scene, the progressive stadium rock genre and the hippie subculture. When Suicide opened for the Clash concerts in '78 they were booed and jeered by the so-called punk crowd whose object of affliction was perhaps closer to the raw punk ethos than they were.
As the Blank Generation slowly transformed towards today's Bank Generation with the "Death of Hipster" a new darker DMT ghost has slipped into the deep dream computer machine - LUCIFAR-AI RISING.
Erik Davis, author of techgnosis.com, will download his thoughts in a keynote style around all these topics on a special Sunday evening panel with V.Vale of Research publications (https://www.researchpubs.com) and Mark McCloud purveyor of the Blotter Barn Blizzard exhibition (http://www.blotterbarn.com), and moderator Naut Humon, curator and founder of the Recombinant Festivals.
Show & Tell with Martin Rev
The Martin Rev weekend residency has a final night on Sunday with a Show and Tell interview moderated and prepared by Marcus Herring ad Tom Fitzgerald from LA. We've invited Marty in person to talk tour time travel back to the cusp of 70's for the original Punk Mass and studio tales around the underground emergence of the annihilating musical assault unit SUICIDE - a band that pretty much invented, defined and then exploded electronic punk. Come join us for this unique compendium of rare clips, conversation, photos, fliers, and even stranger topics and stories of the no-wave era street scene in the midst of Suicide's rise to notoriety and no compromise voice and machines stance through the 1st several albums with him and Alan Vega plus Rev's initial solo releases. A full spectrum perspective from the popular to the perverse.
SCREENING: Suicide Live 1980/2001 and Alan Vega: In His Own Words by GoNightclubbing: Pat Ivers and Emily Armstrong w/ an introduction by Martin Rev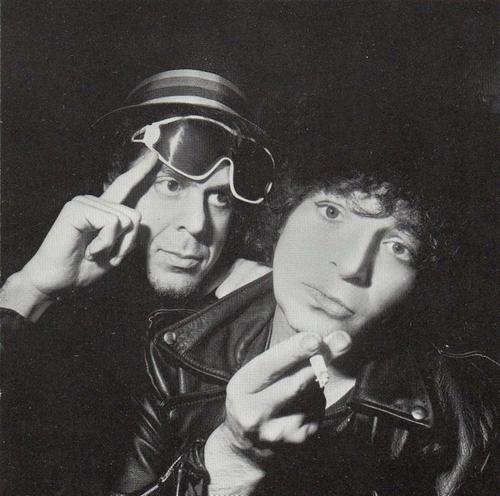 Video artists Pat Ivers and Emily Armstrong, in the pre-MTV days from 1977-80, spent their nights documenting New York's nascent punk and no wave scenes. Armed with portapak cameras, they shot now legendary shows and on-camera interviews, including this amazing Suicide performance.
Innovators Alan Vega and Martin Rev put forth the model for the synth duos that went on to dominate the '80s – but with their own unmatched style and legendary use of drum machines, organs, and synths. To strip down and twist the pop format inside out, to turn music into a confrontation that had at times almost no familiar sounds — such fierce minimalism made Suicide undeniably challenging, as this extended footage of a 1980 set shows. The film captures them in the time zone on the eve of their second album sessions and release. The SUICIDE LIVE screening will start with a lead-in by Martin Rev.