Date: Friday November 15, 2019
Time: Doors 6:30 pm – Show time 7:30pm sharp
Tickets: $20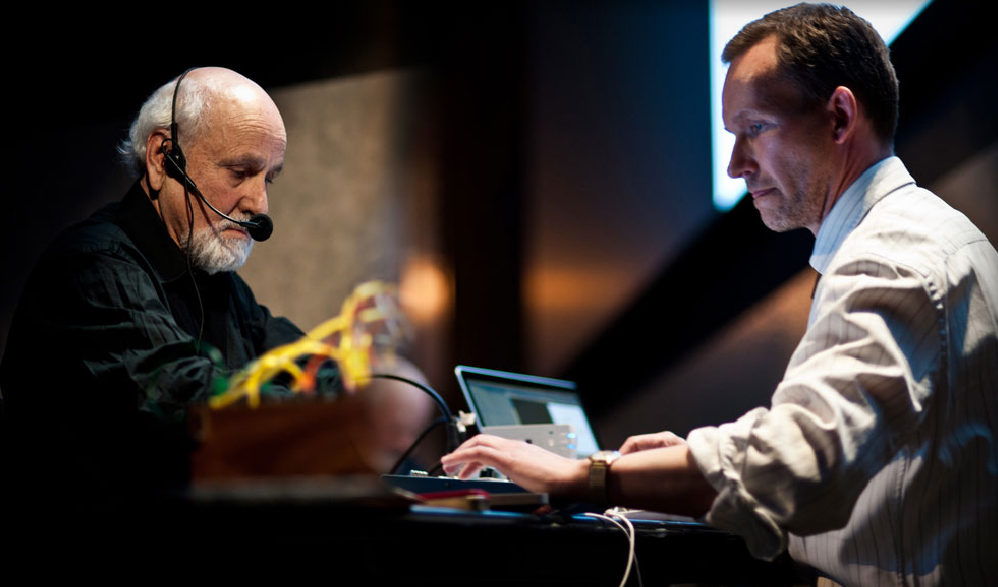 As I Live and Breathe is the title Morton Subotnick have given to one of his last 'performance' pieces ever. For those who have never seen this Godfather of modern modular electronic music- now might be your final chance here at Recombinant 2019 in SF.
Between 1961 and 1980, his principal work as a composer was devoted to the development for electronics and instruments as a studio art in addition to large-scale multimedia projects The first four years of that period were spent with Don Buchla designing and building an appropriate synthesizer instrument with which to make music, not for public performance, but for the phonograph record heard in one's home, In the last double decade, his worldwide concert appearances have resulted in what Morton feels will be the ultimate fulfillment of his public performance activity which at age 86, will be one of his last, if not the last work of Subotnick's vast concert career Lets catch it while we all can in person with the composer present.
As I Live and Breathe opens with the sounds of Subotnick himself breathing into a microphone: a single inhale, followed by silence, followed by an exhale. There is silence and darkness between each breath gesture. Music and image develop in long phrases, simply at first and gradually transforming. The phrases grow more complex and animated as his actual breath becomes the trigger for new sounds, rhythms and electronic pitches, with and without his live breath. The sound of his original breath returns at the end, and like a butterfly emerging from its cocoon, is transformed into rhythms and melodies that end with a single, quiet exhaled breath. "As I Live and Breathe" says the composer is a musical metaphor for Morton Subotnick's life in music !
Morton Subotnick is a pioneer in the development of electronic music and multi-media performance and an innovator in works involving instruments and other media, including interactive computer music systems. Most of his music calls for a computer part, or live electronic processing; his oeuvre utilizes many of the important technological breakthroughs in the history of the genre. In the early 60s, Subotnick taught at Mills College and with Ramon Sender co-founded the San Francisco Tape Music Center. It was during this period that he worked with Don Buchla on what may have been the first analog synthesizer. For Recombinant 2019, Morton Subotnick and his visualist Lillevan will present the North American premiere of their new work "As I Live and Breathe."
Lillevan is an animation, video and media artist. He is perhaps best known as a founding member of the visual / music group Rechenzentrum (1997-2008). Lillevan has performed and collaborated with a multitude of artists from a wide array of genres, ranging from opera to installation, from minimal electronic experimentalism to dance and classical music; performed and exhibited all over the globe, including many of the major media festivals. For Lillevan a working process takes place in a Godardian-like search for the relationship between images, intensities and textures.