Date: Friday November 15, 2019
Time: Doors 9:00pm
Tickets: $20 Advance Tickets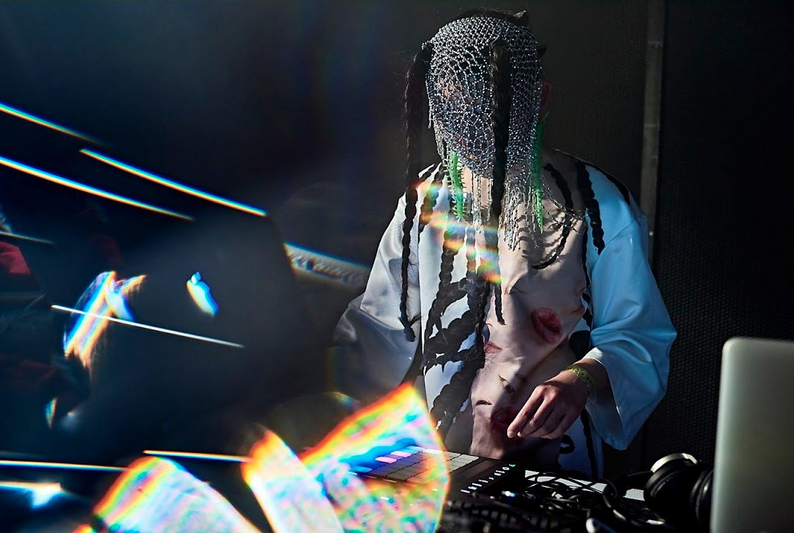 From Shanghai to Tokyo, Recombinant 2019 will showcase key artists shaping East Asia's vital underground scene.
Making waves with their live sets around the world, these experimental audiovisual artists from the Far East will bring a transformative night through their colossal sound and expansive imagery.
Two of the night's featured performers, Shanghai's 33EMYBW and Tokyo's Kyoka were recently handpicked by Aphex Twin to share the stage with him at his inaugural Warehouse Project show in Manchester, UK. 33EMYBW's post club sound has been described by Vice as a "futuristic acid trip" and CDM has called Kyoka's experimental techno "rough, beautiful chaos."
Ambient experimental artist Shao is the first Chinese to be signed onto the legendary Berlin imprint Tresor, joining a roster that has hosted the likes of techno legends such as Jeff Mills, Terrence Dixon, Juan Atkins and Robert Hood. Aided by his visualist Wang Meng, his techno never opts for the easy release, instead conferring a sustained tension that rarely disappoints.
GOOOOOSE is one of the defining artists of Shanghai's burgeoning electronic music scene. An open ended musical project, GOOOOOSE's rhythm heavy sound collages forges a unique local Chinese identity with a broad, informed and eclectic foreign influence.
This evening, the heart of the festival, will strikingly reorient audience expectations of the underground dance floor.
33EMYBW
33EMYBW is a Shanghai-based musician and a core member of the city's electronic/experimental scene. Recently curated by Aphex Twin for his Warehouse Project in Manchester, she is affiliated with the SVBKVLT label in Shanghai. Exploring the futuristic sounds of post-club music, 33EMYBW is gearing towards the release of her sophomore album Anthropods, with the invertebrate animal upon which the title is based on representing her visual signature.
Kyoka
Kyoka is the first solo female artist to be signed onto the legendary imprint raster-noton and works as a musician/composer in Berlin and Tokyo. Known for her chaotic yet direct musical approach focusing on experimental yet danceable rhythms, she grew up in Kanazawa Japan, and underwent piano, flute and shamisen lessons as a child, while simultaneously discovering her passion for tape recorders and field recording. Inspired by her residency at EMS studios in Stockholm, her latest record >>SH<< showcases Kyoka's uncanny ability to deftly handle  repetition, chaos and unforeseen shifts in rhythm with spontaneous precision.
Shao
Shao is the first Chinese artist to be signed to the legendary Berlin techno imprint Tresor, and is one of China's leading figures in the world of electronic music and audio visual performance. Highly sought-after as a composer and sound designer, he was invited by the Goethe Institute to re-compose the soundtrack for the classic German silent film Metropolis. Shao also has an ongoing collaboration with leading Chinese directors Meng Jinghui and Cheng Ran. At Recombinant Festival 2019, Shao and visualist Wang Meng will present, for the first time, his colossal and discombobulated sound to the city of San Francisco.
GOOOOOSE
GOOOOOSE is the experimental music moniker of Han Han, front man of one of China's most well-known experimental rock bands Duck Fight Goose and also owner of the experimental record label Miniless Recordings. His multi-instrumental approach towards music leads the audience into a place where ambient soundscapes, heavily synthesized textures and syncopated rhythms clash as well as harmonize. Apart from making music, Han Han is also a visual artist and software developer. Currently residing in Shanghai, GOOOOOSE has performed internationally including showcases at the Haus der Kulturen der Welt and the CTM festival in Berlin, Cite De La Musique in Paris and the SXSW festival in Austin.
Wang Meng
Wang Meng is a multimedia visual artist from China and co-founder of Atomic Visual Studio. His work broadly covers video, music, installation art, animation, multimedia stage design, and painting. Wang Meng's audio-visual interactive performances with SHAO have been performed all over the world with pieces like "The Shape of Sound" and "Doppler Shift" being shown at the Worldtronics Festival (DE), Electron Festival (SZ), Cidade Preocupada Festival (PT), Festival Tokyo(JP), and SXSW 2018(US). "Nine Kuai Nine" a.k.a.9.9, conceived up by Wang, is an open ended group with no fixed members and the project merges the world of sound, visuals, and new media installation.