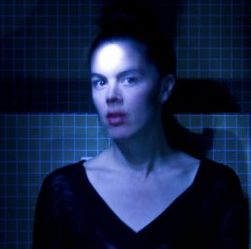 Li Alin - RML associate & Website Design
Since 1996, Li Alin has presented works questioning evolution strategies and human reproduction: such as the notorious internet sperm bank, Eugenie, sponsored by Canada Council for the Arts 
and the Canadian Cultural Center in Paris and the provocative sperm distributor Weisser Markt, in the Zoologischer Stadtgarten Karlsruhe for the exhibition Menschenpark, organized by the Staatliche Hochschule für Gestaltung directed by Peter Sloterdijk. EXPOSE, her 10 video screens installation created with Cecile Martin during Mutek 2014, is co-presented by Recombinant Media Labs.
Her latest work, Enter Me Tonight (EMT) is a Virtual Reality Installation that will be presented at Cynetart in Dresden and at the Hek in Basel in 2017.
She is also the co-founder and co-director of Real Art Estate (RAE) space for contemporary arts with the artist Marcus Sendlinger. RAE space for contemporary arts is an experimental interdisciplinary Art Land project that questions gentrification and the fragmentation of knowledge. It's located on a farm, 40km from Berlin.