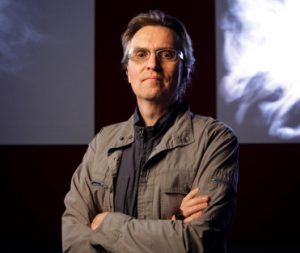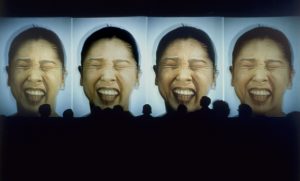 Kurt Hentschläger
Chicago based Austrian artist Kurt Hentschläger creates audiovisual performances and installations.
The immersive nature of his work reflects on the metaphor of the sublime and the human condition in the 21st century. His current work continues to investigate the nature of perception and the impact of new technologies on both individual and collective consciousness.
Between 1992 and 2003 he worked collaboratively within the artist duo GRANULAR-SYNTHESIS. Selected presentations include the Venice Biennial, the Venice Theater Biennial, Stedelijk Museum Amsterdam, PS1 New York, Creative Time, Inc. New York, MAC - Musée d'Art Contemporain Montreal, MAK - Museum of Applied Arts Vienna, National Art Museum of China Beijing, National Museum for Contemporary Art Seoul, MONA – Museum of Old and New Art, Hobart, Tasmania.
In 2012 he was commissioned, as part of the Cultural Program of the 2012 London Olympics / London Festival, to create CORE, a large-scale installation.
In 2010 he won the Quartz Media Art Award in Paris.
He is currently a full time Visiting Artist at the School of the Art Institute of Chicago.
Motion Control MODELL 5
Motion Control MODELL 5 is a performance or installation in which the face of Japanese performer Akemi Takeya is subject to drastic time-based interventions that create in essence a cyborg-like hybrid, between human and machine. A roller coaster dramaturgy following the "life" of the four clones on screens.
Initially premiered in 1994 at the ICC London, MODELL 5 has been described as one of the most brutiful experiments in bringing digital video to a theatrical setting. It uses a technique derived from the principals of sound design called "granular synthesis" but applies this to the rather fat grains of single video frames (visual content and sound). The audio resulting from this aggressive, shattering granulation is largely responsible for translating the familiar human form into the alien machine.
Radically deconstructed and decontextualized, the audio, still in perfect synchronization with but perhaps even more disturbingly abstract than the granulated video-humans, is amplified, multiplied, layered and compressed into an oscillating, pulsing 'living' sonic mass. The result of this represents our species uniquely (inhumanly) and in so doing also defines the essential characteristics of machineness - speed, precision, and unnatural control. We witness the machine processing and reforming human presence.
Granular Synthesis is a collaboration between two researchers, Hentschlager and Langheinrich, who specialize in transforming the gestures and noises of human bodies, particularly human heads isolated by video from their bodies, into recombinant, alien screen-based creatures that move, express and distinguish themselves through superhuman performance. In short, Granular Synthesis turn people into machines.