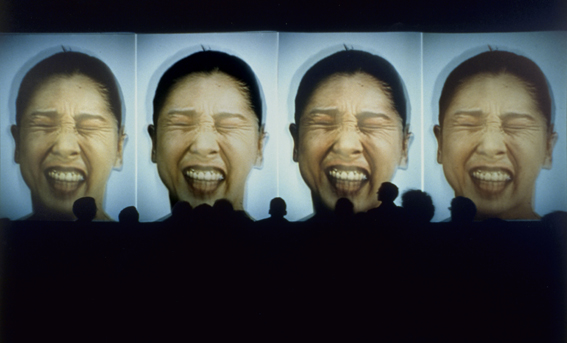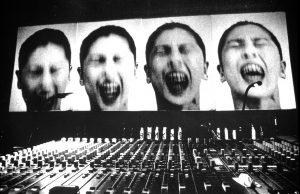 Motion Control MODELL 5
Motion Control MODELL 5 is a performance or installation in which the face of Japanese performer Akemi Takeya is subject to drastic time-based interventions that create in essence a cyborg-like hybrid, between human and machine. A roller coaster dramaturgy following the "life" of the four clones on screens.
Initially premiered in 1994 at the ICC London, MODELL 5 has been described as one of the most brutiful experiments in bringing digital video to a theatrical setting. It uses a technique derived from the principals of sound design called "granular synthesis" but applies this to the rather fat grains of single video frames (visual content and sound). The audio resulting from this aggressive, shattering granulation is largely responsible for translating the familiar human form into the alien machine.
Radically deconstructed and decontextualized, the audio, still in perfect synchronization with but perhaps even more disturbingly abstract than the granulated video-humans, is amplified, multiplied, layered and compressed into an oscillating, pulsing 'living' sonic mass. The result of this represents our species uniquely (inhumanly) and in so doing also defines the essential characteristics of machineness - speed, precision, and unnatural control. We witness the machine processing and reforming human presence.
Granular Synthesis is a collaboration between two researchers, Hentschlager and Langheinrich, who specialize in transforming the gestures and noises of human bodies, particularly human heads isolated by video from their bodies, into recombinant, alien screen-based creatures that move, express and distinguish themselves through superhuman performance. In short, Granular Synthesis turn people into machines.
Granular Synthesis
Granular Synthesis are audiovisual media artists, that strive to fuse video and sound into one medium where video is sound and vice versa. As an important part of this undertaking they develop real time video software and customized computer configurations, enabling them play video as a musical instrument. With their often symphonic performances and space within space installations Granular Synthesis create electronic emotion machines, that surround, immerse their audience, overwhelm the human sensory apparatus by massive use of subsonic and penetrating light frequencies, what literally touch the visitors.
Kurt Hentschläger (1960) lives in Chicago.
Ulf Langheinrich (1960) lives in Dresden and Hong Kong.
They have been working together as Granular Synthesis since 1991.